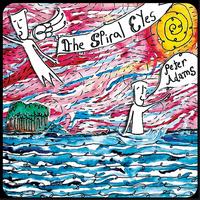 Back in my college radio days, I would pick which albums I would review based solely on their cover art. My thinking was thus: if an artist takes his aesthetics seriously, he will invest in some good cover art. Needless to say this claim was utterly unsubstantiated, but it paid off in a few instances.
Take for instance unsigned Cincinnati singer-songwriter Peter Adams. The surreal, swirling Crayola-and-watercolor cover art for his debut, 2004's The Spiral Eyes, makes an impressive facsimile for the music. Adams' production is string-heavy and baroque while his melodies are sweet and understated; the album is often reminiscent of Andrew Bird's finer moments. (And like Bird, Adams plays his own strings.) The vague medium-fi mix helps complete a dreamy, surreal, and totally satisfying album.
Adams is presently in his bedroom the studio working on his follow-up, and you can catch him live in and around the indie rock hotbed that is Ohio.
Peter Adams – "Shoot the Moon": mp3
Peter Adams – "Mister Grieves": mp3
***
L.A. kids: I'm DJing at the Westwood Village Farmer's Market from 10-3 today. Be there or be someone who doesn't enjoy dancing and fine cheeses.
***
New stuff all sounds the same? Click below for more Old Music.
---