The worst month in sports just took another turn south yesterday with the death of Bill Walsh. Walsh had been diagnosed with leukemia three years ago, but only made his battle with the disease public last November. He was 75 years old.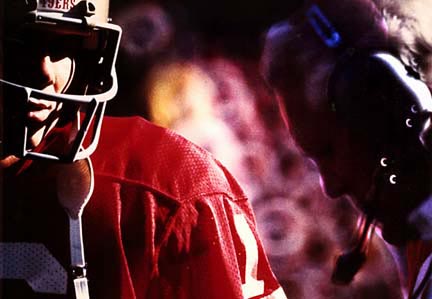 Joe Montana and Bill Walsh
While this 49ers fan is too young to remember any of the seasons under the helm of Walsh, his impact both on the team and on the NFL live on to this day. [Continue reading…]
When Bill Walsh took over the troubled 49ers franchise in 1979, he brought with him the revolutionary West Coast offense which he developed during his days as an assistant coach with the Cincinnati Bengals. This novel method of playcalling was so effective that it earned him the nickname "The Genius" and won him three Super Bowl titles during his decade-long stint with the 49ers, making them "The Team of the '80s." A lot can be said about how much his style changed the game, but what's most important is how Walsh changed the way we looked at the game.
Long viewed as a smash-mouth, violent sport, The Genius' strategic and intelligent approach made football look more like a chess match. Today, teams that institute this approach are often referred to as 'finesse' teams; the prime example of this being the recent Super Bowl Champion Indianapolis Colts. In a statement by Commissioner Goodell, he made the point that "[t]he essence of Bill Walsh was that he was an extraordinary teacher." Walsh was so full of knowledge and innovation that he always had a new play to keep defenses (and his own team) on their toes.
In addition to this, his impact in the coaching world was profound. Many of his successors (and their successors) would go on to coach Super Bowl Champions using their own variation of the West Coast offense. In 1987 he established the Minority Coaching Fellowship, which helped many African-American coaches get onto the sidelines, something the NFL would later enact in policy.
Walsh's no-nonsense, straight-laced image extended onto his team. The Niners were a class act in a league filled with teams such as the Chicago Bears, Pittsburgh Steelers, and Oakland/Los Angeles Raiders whose players and fans were perceived as unruly and rowdy. Niners fans everywhere are still proud to hold this image, and we always laugh at the ridiculous group that calls itself the Raider Nation.
But above all, The Genius always kept the Dallas Cowboys in their place.
Thanks, Bill.
The 1986 San Francisco 49ers – "We're The 49ers": mp3
***
The Sporting Life with Carman Tse: Real talk. Click below for more.
---