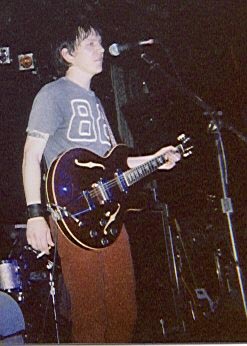 Still here, if you want me.
So the long-awaited "Stickman" leaked. Maybe we'll get to hear the studio "True Love" at some point? This definitely sounds unfinished, but it's a fantastic song and there are some pretty interesting things going on. It comes to us thanks to the excellent new Elliott Smith download site, Trash Treasury (via Everybody Cares, Everybody Understands), which is hosting quite a few live shows and other assorted rarities.
Here's the song in YSI form to save the guy some bandwith, but check out the site. It's great.
"Stickman": mp3
"Stickman" (Live, 2.01.03): mp3
In more Elliott/The Rawking Refuses To Stop! favorite band news, SomeSongs is hosting a Softies live show from the '96 tour with Elliott. It may be the only Softies concert bootleg in circulation, so check it out. More importantly, Rose Melberg came out during Elliott's set to sing a duet on one of my favorite songs ever.
Elliott Smith (with Rose Melberg) – "The Biggest Lie": mp3

AND somebody somewhere posted a soundboard "Flowers For Charlie" which sounds great. This is an unreleased song.
"Flowers For Charlie" (live): mp3
And finally, here's Basement II one last time: Download (and enjoy).
—
More Elliott resources:
SomeSongs.net – A fantastic bittorrent-based show trading site
ElliottSmithBSides.com – Pretty self-explanatory
Sweetadeline.net – The official Elliott (fan) site. There's a great community over at the SweetAddy message board, and the webmaster, Charlie, is the sweetest guy in the world.
---