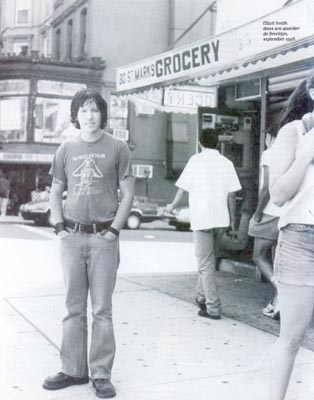 1995-1997 is sort of a black hole for good bootlegs, at least from what I've got. Everything 1998 and beyond is pretty well-documented and he was playing fantastic shows, but before that there's not a lot of material.
Trash Treasury has a show in Canada from 1995 that I'm not familiar with, with the unreleased song "Talking To Mary" (download in FLAC), three from 1996, and a few from '97 as well, but the only show I'm really familiar with from this era is 11.14.97 at La Luna in Portland. Mixing killer performances from his second album, Elliott Smith, with new tracks from Either/Or and the forthcoming XO album, he seems to be in good spirits throughout, though the overly aggressive shouting of some of the "fans" in the audience is pretty depressing. Then again, everything about Elliott has always been bittersweet.
Interesting lyrical tidbits: in "Angeles," he sings "my broken arms" instead of "my poison arms" and on "Waltz #2 (XO)" he sings "I love you, Mom." Also, "Bottle Up And Explode" is pretty different. There's a girl in the audience singing along with him on a bit of "Pictures Of Me" which is cute if you listen closely.
Elliott Smith – "Bottle Up And Explode!" (early version, 11.14.97): mp3
Elliott Smith – "Christian Brothers" (11.14.97): mp3
(I've sent this on to Trash Treasury, so hopefully there will be an http source for this in the coming days. Until then, comment if it goes down.)
---