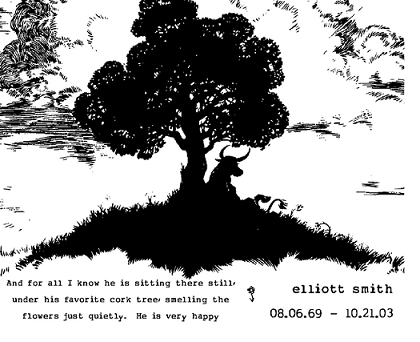 I stumbled upon this last night and started tearing up. If you don't know, Ferdinand the bull was one of Elliott's tatoos and is a simple, beautiful story. I don't think I'll ever find another musician who affects me as strongly as Elliott did and still does, and if you're reading this blog and somehow, someway haven't heard the man…do yourself a favor and buy Either/Or right now before you do anything else.
Christopher O'Riley is playing a free show at the Getty this Friday devoted completely to his renditions of Elliott's work. I saw him play a few of the songs at UCLA last year and he did a really great job – the show is sold out, but maybe if you show up early enough, there will be some spots. He's a really great guy and a huge appreciator of Elliott, and I think that comes through in his music:
Christopher O'Riley – "Between The Bars" (demo): mp3
Christopher O'Riley – "Waltz #1" (demo): mp3
Christopher O'Riley – "Not Half Right" (demo): mp3
Buy direct from O'Riley / Hear/download more at MySpace
—
The DIY Rockstar is interviewing every indie label on the planet for the next three weeks. Check it out.
Tags: Elliott Smith, Christopher O'Riley, Home To Oblivion
---